Activities
ACTIVITIES See under this Tab:
1. DEFINING THE 'ATLANTIKWAL'
2. ACTIVITIES REPORTS FROM MEMBERS (2016-2017)
------------------------------------------------------------------------------------------------------------------
1. DEFINING THE 'ATLANTIKWALL'
From our Dutch member, the Stichting Menno vcan Coehoorn we received this document, prepared for the "Erfgoedtafel Atlantikwall Zuid-Holland' (Heritage Table province South-Holland), it being the first or at leastone of the first attempots at defining this phenomenon, that covered the coast from northern Norway, through Denmakr, German, Belgium and France.
The Atlantikwall, Definition of a Phenomenon
1. Introduction
It might appear that amongst historians and policy makers there is common conception of the Atlantikwall. There are however many interpretations. For this reason, an attempt has been made to approach the Atlantikwall not only as objectively but also functionally.
2. The Atlantikwall in Historical Perspective
a) Phases
There are four discernible phases in the development of the German coastal defences:
Phase 1: Guarding the coastline, defending of key locations (harbours) and invasion preparations (1940-41);
Phase 2: Linear closed defence line against sea-based attacks (late 1941);
Phase 3: Comprehensive closed defence line against sea based and airborne attacks (late 1942-late 1943);
Phase 4: Proactive defence and layered defence lines (late 1943-1944);
b) Prelude (Phase 1)
Guarding of the coastline, defence of key locations (harbours) and invasion preparations (1940-41).
Early June 1940 saw the coastlines of Western Europe from the northern reaches of Norway to southern France in German hands. From then on this coast became the outer reaches of the third Reich. The Wehrmacht kept up, at this point only a primitive guard, as it was still on the advance. Any defences (occasionally bunkers) worth speaking of were placed at key points of strategic interest: ports and harbours on the West European Coast, the Channel Coast and the prestigious Channel Islands; for example. Following their losses at the Battle of Britain coupled with Hitler's expanding Eastern interest, the Wehrmacht gradually began to fill in the forgotten gaps and remote points between their initial strongholds, using radar and artillery positions, thereby slowly forming a series of fortifications along the whole coastline.
c) The Order of 14 December 1941: Die Neue Westwall / the New Westwall (Phase 2)
Linear closed defence line against sea-based attacks (late 1941).
On the 14th of December 1941 Hitler ordered the building of the Neue Westwall and with it came a better picture of the concept for the further expansion of existing strongholds into a sealed defence line "von Eismeer bis zur Biscaya". This line would protect the important coastal locations, primarily the harbour areas, against enemy attacks from the sea and air, using of course "all available means".
The defensive concept upon which the Neue Westwall was based, was the assumption that: the robust ability of the defences to take a prolonged pounding would provide sufficient opportunity to provide efficient reinforcements. A challenge, when considering the enormous lengths of coastline to be defended. On the one hand, these principles were dictated by the increased threat of the Allied invasion, and on the other hand by the demand for evermore troops at the Eastern Front. Besides, according to Hitler, the "Neue Westwall" was greatly symbolic and therefore also valuable propaganda. Its realisation turned out to be more challenging and this led to a change of plans.
d) The Benefits of Experience: the Atlantikwall (Phase 3)
Comprehensive closed defence line against sea based and airborne attacks (late 1942-late 1943)
In less than one week of the Atlantikwall-Conference of 13th August 1942 the ill-fated Allied raid on Dieppe took place. It encouraged Hitler's opinion that bomb proof bunkers, a so called Ständige Bunker, were called for to protect his field positions so vulnerable to air raids. This led to Order nr.14 being issued on 25th August 1942 by General Field-Marshal Gerd Von Rundsted, then Supreme Commander of all German troops on the Western front. It required an impenetrable fortress to be made of the Channel an Atlantic coastlines. This order meant a change of plans inevitable. To make the line impenetrable it needed protection from behind as well as up front.
The implications were the formation of a land-front corresponding to the sea-front, imperative to guarding the emplacements both from parachute attack behind lines and pincer attack movements. Tank traps were laid out with walls, dragons teeth , moats and canals were dug as water obstacles.
The expansion of the Sea-front with a land-front called for a further integration within and around the new and existing defences like the radar and airfield bases. This led to the creation of so-called Stutzpunktgruppen. The defence concept required far reaching cooperation between three military services Kreigsmarine, Heer and Luftwaffe.
e) Rommel (Phase 4)
Proactive defence and layered defence lines (late 1943-1944)
Late 1943 field-marshal Erwin Rommel further changed matters as Hitler's inspector of the Atlantikwall. He was of the opinion that an invasion attack should be destroyed at sea and in extreme circumstances on the beaches and that the Wehrmacht was unable to defeat the enemy should they be able to make a bridgehead and break out. Rommel ordered in early 1944 that placement of submerged obstacles and huge numbers of pikes buried at an angle rigged with steel cables and tipped with mines.
He recognized from previous encounters at the front, the increasing risk of allied airborne landings. To counter this danger and protect the rear of the coastal defences, Rommel ordered the existing Landfront and the hinterland expanded. Low lying areas were flooded, Rommel had additional minefields laid, earthworks and obstacles placed.
3. The Atlantikwall as phenomenon
The remains of the Atlantikwall are like war-scars. There are very few visible signs of the German occupation along our coastline. This realisation over the last few years has altered our appreciation of the Atlantikwall. The remains are protected cultural heritage sites.
For current and future stewardship of the Atlantikwall it is therefore important to gain insight into the nature of the defence line, for making balanced interpretations about the significance of (elements of) the Atlantikwall.
The Atlantikwall can be viewed in several different ways:
a military defence concept, based on a line;
a discernible, physical infrastructure, mostly near or along the coastline.
a largely standardized fortifications.
An integrated defence system.
a propaganda slogan
a) The Atlantikwall as defence concept
The Atlantikwall Neue Westwall built upon earlier German defence concepts based on lines, like the Ostwall and Westwall. The big difference to these lines is that Atlantikwall wasn't built from one set of blueprints, but under influences of dynamic warfare and military strategy decision making it evolved from 1941 into an integrated defence system encompassing any existing coastguard elements along the West European Coast.
b) The Atlantikwall as physical infrastructure
The German coastal defences that were established in 1940 were primarily aimed at the prevention and repulsion of enemy air and sea attacks. Originally comprised of varying artillery batteries located around harbours and along the coast. Around all these points and at spots in between, they built U-Boot Bunkers (Unterseeboot, Underwater boat / submarine), and S-Boot-Bunkers (Schnellboot, Speedboat / motor torpedo boat), anti-aircraft positions and radar installations were built. These objects and complexes lay within the same are of the defence line we now call the Atlantikwall, whereas they were never formally a part of it. Their presence born of tactical considerations meant they were simply included in the defences as much for their own protection as the added bonus they leant the Atlantikwall itself.
Résumé: The Atlantikwall exists as physical coastal defence structures consisting of individual objects and ensembles into which military objects have been integrated regardless of their own function. These objects continue to be seen as part of the Atlantikwall, even if strictly speaking this is not the case.
c) The Atlantikwall as defence system
The coastal defence could not function without the headquarters inland, in command and responsible for logistic support, communication and supply routes, etc. The so called fall-back emplacements, inundation zones and other barriers further inland are all part of the system. The give the depth and strength to the Atlantikwall.
Résumé: The evolving German coastal defence concept determined the eventual shape and size of the physical infrastructure of the Atlantikwall. The dedicated organisation, management and support made the Atlantikwall the functioning defence system it was.
d) The standardized fortification concept
The standardized fortification concept can be found in:
the central management building the Atlantikwall and hierarchy within defence bases according to category: Widerstandsnest, Stützpunkt, Stützpunktgruppe and Verteidigungsbereich (Festung);
the standardisation of bunkers and objects: Ständiger Bau, Küver, Verstärkt Feldmässig, Sonderkonstruktionen, etc.;
In German sources the line was also referred to as "Perlen am Perlenschnur" describing the strongholds as pearls with in between the "freie Küste" the coastline as the necklace.
e) The Atlantikwall as propaganda slogan.
The war reports, newspapers and magazines created an image of the Atlantikwall as an impervious wall making "Festung Europa" impregnable. This propaganda message would put the German people at ease, keep the soldiers' moral high, suppress the occupied territory whilst discourage and demoralise the enemy.
4. Defining the Atlantikwall
Based on the previous analysis it possible to define, depending on the chosen perspective, what the scope is of the Atlantikwall, and which objects and defensive works can be included.
a) Borders
The physical borders of the Atlantikwall comprise:
The outer borders of the fortifications and bunker complexes (Widerstandsnest, Stützpunkt), or combination of bunker complexes (Stützpunktgruppe, Verteidigungsbereich, Festung) both Seafront and Landfront as established by the Wehrmacht as coastguard;
The stretches of coast between the various Stützpunktgruppen and Vertriedungsbereiche (Festung) with a variable depth of several kilometers land inwards.
b) Defence system
The elements that make up the Atlantikwall defence system also include all the hinterland units, positions and headquarters of the coastal defence forces. The length of the Atlantikwall stretches some 6200 kilometers, measured straight along the coast ignoring coves and fjords from the Norwegian-Russian frontier to the Franco-Spanish border, including the Channel Islands.
Literature
Huber, T. (2003). Der Atlantikwall 1940-1945. Die Befestigung de Küsten West- und Nordeuropas im Spannungsfeld nationalsozialistischer Kreigführung und Ideologie.
Molt, A. (1993). Der Deutsche Festungbau von der Memel zum Atlantik. Fetungpioniere, Ingenieurkorps, Pioniertruppe 1900-1945.
Rolf, R. (2014). Atlantikwall. Batteries and Bunkers.
Den Haag, 22 February 2016,
Kees Neisingh
Gert-Jan Mellink
Raphaël Smid
Jeroen Rijpsma
2. ACTIVITIES REPORTS (2015-2016) FROM IFC-MEMBERS
UNITED STATES

COAST DEFENSE STUDY GROUP
The CDSG Publications committee produced four excellent quarterly Coast Defense Journal and CDSG Newsletter
for our members during this period containing a grand total of 465 pages. The Coast Defense Journal includes articles on seacoast fortifications from around the world, so our editor, B.W. Smith would like to receive articles on coastal works from members of the various associations that make up the IFC.
The CDSG Press committee handles the selling of back issues of our journal, our conference/tour notes, DVD of a range of coast artillery documents, and publishing reprints of key books on America's fortifications. We have added"Volume 28" (2014) of the Coast Defense Journal and CDSG Newsletter to our list of back issues. Additionally, we have placed the entire Journal/News collection on a DVD, which represents over 10,000 pages of coast defense material. We also added the conference notes from the "Defenses of the Delaware Bay" in DVD format to our press list. The CDSG Press continues to sell reprints of important U.S. Army books on American coast defense and seacoast artillery. The committee's primary publishing effort this year has been the writing a new original book on "Guide to American Seacoast Forts" as a companion volume to our CDSG reference guide, "American Seacoast Defenses – 3nd Edition" (ASD3), which is a new edition published in 2015. We hope the guidebook to American Seacoast Forts will be published in 2017.

The CDSG Fund is our vehicle to collect tax-deducible gifts from our membership and then provide these funds to
other organizations to further their fortification projects that fit within the goals and objectives of the CDSG. Typical gifts that the committee disburses are funds to preserve and interpret coast defense structures and artifacts (such as shell hoists, generators, and surviving ordnance). The CDSG Fund provided grants during the last twelve months to Delaware State Parks for the purchase of steel plates to make doors for the Mine Casemate, Battery 519 PSR, and Battery Smith PSR at Cape Henlopen State Park (Fort Miles). The second grant was for signage for the planned restoration of the bakery building at Fort Ward on Bainbridge Island in Washington State. We also provide funding to the Sandy Hook Proving Grounds (National Park Service) for the Fort Drum turret site signage. The CDSG Fund has also continued the funded the purchase and donation of copies of the "Historic Fortification Preservation Handbook" published by the Washington State Parks to assist owners of former coast defense sites maintaining them.

The CDSG Membership and CDSG Finance committees deal with internal functions such as gathering dues, keep
track of our membership list, and paying our bills. In an effort to maintain membership growth, these committees
promote new memberships with notices in related journals, T-shirt sales, and other promotional activities during the year. Our dues are $40 domestic and $70 international (due to the cost of the international surface postal rates). Membership was 392 at the end of 2015.
The CDSG Preservation committee keeps track of threats to the former U.S. coast defense sites and promotes their historical signification and urges their preservation. Our efforts focus on educating the owners of such sites of their historical value, as well as pointing out existing laws and regulations that may govern the future use of such sites. The committee is currently monitoring the use of several former forts by private owners (such as Fort Ward, Fort Salisbury, Fort Montgomery, Fort St. Phillip, Fort Carroll, Fort McKinley, etc.), the impact of several hurricanes of forts on both the Gulf and Atlantic coasts (Fort Pike, Fort Macomb, Fort Jackson, Fort Livingston, Fort Pickens, Fort Caswell), the National Park Service (NPS) management plans for several of their parks which would declare certain batteries as "ruins", the redevelopment of the Presidio of San Francisco, CA, Fort Baker, CA, Fort Worden, WA, Fort Hancock, NJ, Fort DuPont, DE to private ventures or partnerships, the U.S. Army's transfer of Fort Monroe, VA to the Commonwealth of Virginia, scrapping of metal at Fort Mills, Fort Drum, Fort Frank in Manila Bay, and encroaching commercial development of Fort Grant, Fort Kobbe, Fort Amador, and Fort Randolph in the former Panama Canal Zone.

Our CDSG Representative committee is designed to place a "lead" CDSG member in each former U.S. harbor
defenses (21) to report on threats to local fortifications sites, assist local site owners in becoming knowledgeable about the importance of their site, and to increase membership in the CDSG. Our representative's report back on the current state of affairs in their areas on a regular basis and help spread the word about the CDSG and its mission. These reports are distributed through our website and newsletter. It is based on these reports that our other committees, as the CDSG Preservation and the CDSG Fund learn of possible projects or threats to structures.

The CDSG Project committee gives focus to our membership's efforts to promote the subject of coast defense. This committee handles the development of our website (www.cdsg.org) which provides information both on the CDSG and history of coast defense in the United States. In 2016 the website was replaced with newer software and a new look. Once such project is the conversion of all the primary coast artillery, quartermaster, and engineer records held in the U.S. National Archives to electronic form and be made available to membership on DVD. This massive effort has been underway for several years and the CDSG Press is offering DVD and Flash Drives of this data for sale.
The CDSG Audit and CDSG Nominations committees both serve internal organization needs by annual reviewing
our books and records and by selecting annual candidates to be elected to our board of directors.
Our CDSG Conference committee is tasked with organizing our annual conference to a former U.S. harbor defense. From April 29th to May 3rd, 2015, we had an excellent annual conference to visit the former harbor defenses of Delaware Bay and on September 12th -15th, 2016 we held a great annual conference to Portsmouth, NH/North Boston, MA. Our annual conferences follow a format of field trips during the day and presentations at night. They last from three to four days. Our 2017 annual conference is planned from March 25th to April 2nd to former harbor defenses of the New York. Our 2018 conference is expected to be to the former defenses of Columbia River in April, while our 2019 annual conference is planned for October 2019 to the former defenses of Chesapeake Bay. We welcome members of the IFC member organizations to attend our conferences.
The CDSG Tour committee conducts special tours on an occasion basis to sites outside the United States. We held
an excellent special tour to former harbor defenses of Panama Canal Zone from February 27 to March 5, 2016. We are planning on a special tour to Switzerland for June 2018 as guests of the ASMEM and a special tour to Manila Bay and Subic Bay in May 2019. We welcome members of IFC organizations to attend.
As the CDSG liaison to the IFC, I will attend the annual meeting in Toulon on October 13th/16th. I have also attached our current membership brochure, which summarize our activities, list the publications that we sell, and show our dues. Please contact me at tcmcgovern@att.net or 703/934-3661 (work) if you have any questions about the CDSG.
UNITED KINGDOM

FORTRESS STUDY GROUP
Membership: Numbers have dropped slightly to about 530, but this is due in part to a more rigorous check on members in relation to our new web site. It is assessed that some of the lapsed members will re-join later. Nevertheless, there is an overall decline in membership numbers and a dearth of new younger members.
The annual MEMBERS DAY was held in London in 4th June 2016, when 25 members, some of whom made presentations on diverse subjects from the Defences of Gibraltar to early American Forts. It is believed putting back this meeting to June, rather than the usual April, may have impacted on the number attending.
Publications: FORT 44 (2015) the international journal of fortification has just been sent out to members.
The magazine of the group, Casemate, is published every four months. The September issue has just been delivered to members.
Guide booklets for the study tour of the Balearic Islands and the conference at Chichester/Portsmouth have also been published and distributed to interested parties.
Events:
The annual STUDY TOUR visited the Balearic Island of Mallorca and Menorca. Despite being split between the two Islands this tour was judged a great success thanks to assistance from the Spanish Military and local heritage organisations. The timing was ideal because the military are just handing over many of their old sites, and they are still very much as left by the Spanish Armed Forces. (Note: the initial plan for the Study Tour was to The Dolomites, but the organiser resigned. Hence the change of venue. A salutary reminder how dependent we are on volunteers.)
The FSG CONFERENCE and AGM was held at the University of Chichester between the 3rd and 5th of September when 43 members visited various fortifications and other military sites around Portsmouth.
In 2017 we will conduct a full Study Tour to Malta and a shorter tour will be made to Alderney, Channel Islands.
Digital Future
As with many organisations, the Fortress Study Group is adapting to the new digital era and advent of social media as a significant medium. Considerable effort have been made in the last year to increase the digital profile of the FSG.
FSG Website: The web site has been redesigned over the last few months and is still a work in process. The number of individual visitors per month to the FSG website increased to around 550 with 57% being new visitors. This is slightly up from the old web site which was usually about 450- per month. Analysis of the traffic reveals that 45% of the visits come from the US and 33% from the UK. Interest by the rest of Europe is minimal, with German and Spain having 1.48% of the traffic each.
FSG Facebook: The FSG now has an active Facebook Page and this now has in excess of 960 and a reach going above 3,000 people. This can be developed further.
Defence of Gibraltar: This is an active web site, intended to plot military installations in Gibraltar. There are now in excess of 630 items mapped on the web site and it is growing steadily. This site has about 260 visits a month, predominantly from the US and UK (90%) and marginal interest from the rest of Europe apart from Spain with 2.19%. Nevertheless, this is believed to be a worthwhile effort in the digital environment.
FSG Twitter: Not a major success but at least we are in the space. There are presently 171 Followers and we Follow 61. A total of 273 Tweets sent. Probably needs integrating with the web site at some stage.
FSG Library
The FSG has a public access Library, held at Fort Nelson, which has had no visits and only one request for access (which was thwarted due to a rival supplier of info being found). There is now a complete catalogue available on the website. The Library appears now to be a "memory pod" and unused. It's value is very moot. Consideration is being given to handing over the collection to the Royal Armouries at Fort Nelson.
Gordon Fordyce Fortifications Grants Fund
Gordon Fordyce left a considerable amount of money with the FSG to be to support appropriate works. Some of this money he has specifically designated by distributed by the FSG to named organisation in France. We have sought the assistance of the Association Vauban in identifying and contacting these organisations.
General Remarks:
As previously reported the FSG now makes awards to various bodies for their work in restoring and re-using fortifications in a sympathetic way. Awards have been made to various organisations including Cap Rocatt Hotel and Chapel Bay Fort. We are presently drawing up a more detailed criterion for awarding these plaques and any grants.
The Future:
We are currently attempting to amend our constitution, primarily to bring it into line with current legislation – as we are a registered charity - which has changed over the last decade.
It would appear that there is now a shortage of volunteers to run the organisation at a national level and even less interest at a regional level. We are currently having problems finding a new Treasurer and many of the older volunteers are now withdrawing.
FORTRESS STUDY GROUP – REPORT of ACTIVITIES 2014
Membership: Numbers have remained steady at almost 600 and it has been noted that new
members mainly come via the website and all new members have an email address. The annual
MEMBERS DAY was held in London in April, when 20 members watched short presentations on
La Rochelle, Gibraltar, Canada, Taunton, Blaye, Vis, Malaysia, Menorca and Norway.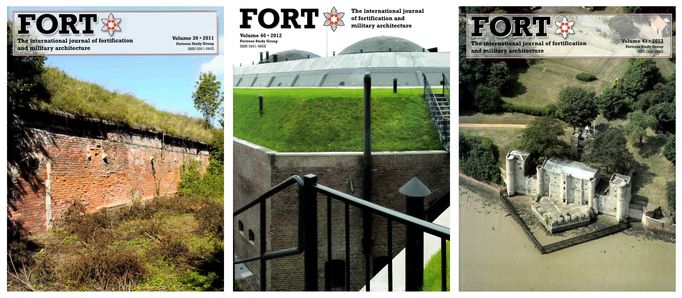 Publications: FORT 42 (2014) the international journal of fortification and military architecture
has been published and FORT 30, the Andrew Saunders commemorative volume, was also
published earlier this year.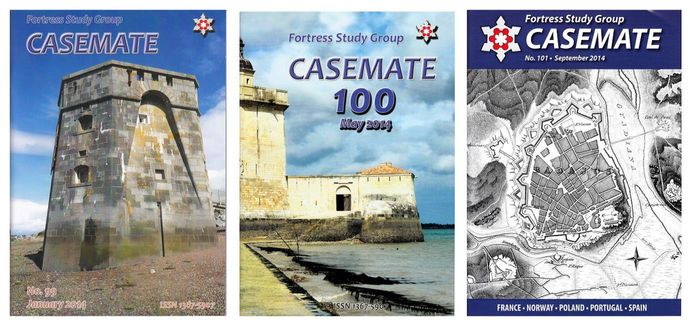 The magazine of the group, Casemate, is published every four months.
Guide booklets for the study tour of the Western Pyrenees and the conference at Norwich have also
been published.
CZECH REPUBLIC

The Activities of the CAMH in 2013 [No recent report received, the Editor]:
- 151 members, 150 from the Czech Republic and one from Germany. Continuous cooperation with several regional societies in the Czech Republic.
- Two gatherings - in May a visit to the light fortifications from the years 1937-1938 in Southern Bohemia and, in November a meeting in Prague.
- Three volumes of our Magazine: OIN.
- Three trips to: Alsace, Sicily and Denmark.
Prospects for 2014:
- Two gatherings – in May in Northern Bohemia visiting the heavy fortifications from the years 1937-1938, in November a meeting in Prague.
- Planned trips:
- June 2014: Menorca
- August 2014: Maginot Line in the Alps
- Expected publications: Artillery and Fortifications 1867-1918
CROATIA

Nacionalna Udruga za Fortifikacije N.U.F.
In 2015 Nacionalna Udruga za Fortifikacije continued cooperation with various organizations and institutions as well local as international. On a local scale, NUF focused on raising awareness about importance of national heritage in Croatia among professional and as well as non-professional community members.
NUF was involved in organising various debates, open discussions and projections of documentary movies referring to the subject of fortifications in Croatia, cooperating with a local initiative and small cultural centre 'Kutika'. Numerous events took place in the office in Zagreb:
- Debate "Pula - Fortification system, the main naval port of the Austro-Hungarian Empire".
- Discussion about the appropriate care for the historical legacy of the war.
- Presentation of outcomes of volunteer actions of cleaning the fortifications in and around Pula organized by Mr. Zlatko Devedžić.
- Projections of various documentary movies about different fortifications in Croatia, accompanied by debates: "Unknown Pula" ("Nepoznata Pula"), "Cultural Landscape" ("Kulturni krajolik"), "Fortress in Slavonski Brod" ("Tvrđava u Slavonskom Brodu), "Slavonski Brod – Fortress" ("Slavonski Brod – Tvrđava")
NUF organized and participated in a professional study trip in Topusko fortified monastery remains of ramparts.
Besides local activities, NUF representatives attended study trip in Komarno, Slovakia and an international conference in Hungary which took place on 26 - 27th October, 2015.
Stjepan Lončarić , N.U.F., president
NETHERLANDS
STICHTING MENNO VAN COEHOORN
Stichting Menno van Coehoorn ( 1-10-2015 / 30-9-2016)
MEMBERSHIP:
Number of members: 1035
PUBLICATIONS: Saillant (quarterly, format A-5, 45 pages)
(Books, magazines, etc.)
EVENTS:
(Meetings, excursions, etc.) 2 excursions for active members
3 excursions for all members
1 National meeting for all fortification- organisations in the Netherlands
These excursions went to Limburg, including Maastricht, and to parts of the New Holland Waterline and pre-WWII pillboxes.
Fort Honswijk New Holland Waterline
National meeting for all fortification- organisations in the Netherlands
The meeting took place in an underground Cold War Civil Defence Command Post in Grou (Friesland, the Netherlands).
RECENT DEVELOPMENTS
(Conservation, restoration, government ownership, privatisation, vision on the future of monuments)
Protection of monuments has recently been attributed to the local (community) level. When planning to remove, change or re-use monuments, the new laws require ngo's to launch their opinion in a very early stage of the planning process. After that moment, nop new arguments can be brought in.
A landscape architect wants to 'throw away' as 'objets trouvées' three pre-WWII pillboxes that have to be removed. Menno van Coehoorn accepts the removal and new positioning of the casemates, but objects to the turning and elevating (15 degrees).
WEBSITE: www.coehoorn.nl, including the Multilingual Fortification Dictionary, and a national database on fortifications. All books and documents can be found via the website; most of this material has been scanned and is available at low resolution.
FRANCE

ASSOCIATION VAUBAN
President Alain MONFERRAND
MEMBERSHIP:
Number of members: 155 (AG de MENTON)
PUBLICATIONS:
Oisivetés: " La Lettre des Oisivetés" 2016
Quarterly Newsletter « l'Escarpe » dedicated to regional events
Dossier for the annual congress in ALPES MARITIMES [Menton-Cannes]
Dossier for the study tour in Portugal.
PUBLICATIONS IN PROGRESS:
Correspondences, "agenda", note-book for the preparation of meetings from VAUBAN to LOUIS XIV- the transcription old to actual French language is closed and the text by Professor Michele Virol is finalised. - (edition scheduled for the end of 2016 by Champ Vallon editor)
EVENTS:
MARCH 24th – VAUBAN MEMORIAL DAY.
This annual ceremony was held at the Royal Chapel of the Dome des Invalides in Paris, Alain MONFERRAND presiding. Among the persons present, were the representant of General RACT-MADOUX, National Hotel of Invalides Governor, Lieutenant-général VITRY Association VAUBAN Vice-President, Major General BAPTISTE director of Army Museum, Brigadier General Olivier CHARNIN, Director of infra site of Versailles, Brigadier-général de GUIGUE "Délégué au Patrimoine de l'Armée de terre , Général de Brigade (ER) RIGOUX President de la fédération Nationale du Génie Lt Col de BENTZMAN, Vice - director of volunteer military service, Brigadier Jean Philippe GAUDIN, Defense attaché Swiss Embassy in Paris, Captain Jean Yves ROCHER curator of Angers' Genie Museum, several of Marshal de Vauban's family members, the board of the Association VAUBAN, the Fellow members of military engineers for infrastructures (IMI) and numerous visitors of the Royal Chapel. The honors were returned by Promotion "Marquis d'Asfeld" of the pupils - engineers from the School of Military Engineers for Infrastructure coming from Angers.
MAY–ANNUAL CONGRESS- DEFENCE ZONES OF THE ALPES MARITIMES (South France)
ITINERARY:
The land forts of Menton: Maginot sites of Saint Agnès, Sospel Saint Roch, and the defences of the tramway line Menton-Sospel, The Barbonnet and Suchet forts,
The land forts of Monaco-Nice: Fort of Mount Agel (military site), Fort of Mount Chauve d'Aspremont (civil aviation site),
The protection of French Boarder (Bama Negra barrier on the Tine Valley, first Maginot site of Rimplas, Maginot Barrier of Frassinea and the Vauban site of Entrevaux
The sea position in Cannes's Bay and the islands of Saint Honorat (old fort) and Sainte Marguerite (Vauban fortifications), the naval battle of Lerins site (1637) and identification of the Vauban site project of a Gourjean Gun tower, and visit of the Antibes's fort.
Italian Border : Nava fortifications with Ottano line (1939), Nava Central Fort, Possanghi tower, Montescio, Bellarasco and Richermo Forts and back to France by the land fort " de la Revère" à Nice.
CONFERENCE MAIN ITEMS:
Resumption of Lérins Islands to Spanish : the other landing in Provence, Christophe ROUSTAN-DELATOUR La Castre Curator (Cannes) ; The Castle and the Walls of Nice, Eric GUILLOTEAU, Dr dipl. Historian ; Bonaparte appointed Head of the Army of Italy : manoeuvring by the Ligurian Coastal, Alexandre GOURDON, Souvenir Napolénien ; The Defences of Railways Tracks in the Alpes Maritimes (1870-1945), Marc GAYDA Secretary of A.V., Cannes nomination to World Heritage of UNESCO, David LISNARD, Mayor of Cannes.
VAUBAN AWARDS
The Vauban Association accord an annual award for some restoration or valorisation project of a Fortified Site or for a University Research about Fortifications. After some year without give a price, the Scientific Council and the Board proposes to the General Assembly to distinguish the Patrimonial Protection of Entrevaux Society (APPE) for the restoration of the Citadel. The award was presented by President Alain MONFERRAND to Richard CHAMPOUSSIN President of the APPE Society with a reception by Lucas GUIBERT Mayor of the City.
SEPTEMBER – ANNUAL STUDY TOUR PORTUGAL
In four days: Lisbon, Belem-Forte do Bom Sucesso, the fort and the defences of Tagus River, Elvas and Evaramonte : The fortified City, Santa Luzia Fort and visit of a Wellington Fort, Graça Fort, Almeida by the Alto Alentejo Road, in Almeida visit of fortifications and Wall, Porto and da Insua Fort in front of the Minho Mouth, Valenca do Minho, Cty, wall and Citadel.
WEBSITE - www. association-vauban.org
The website will continue to make the name and activities of the Association Vauban known.
NEXT YEAR -2017 ELABORATION:
October: IFC AG in TOULON, 23 March: Vauban Memorial Day, 25-28 may Annual Congress at Barcelonnette area, September: Annual study Tour in Germany around the Rhin River.
REMARKS:
REPRESENTATION OF THE ASSOCIATION VAUBAN IN THE IFC:
Mary PIERDAIT FILLIE, after three years as Vice Secretary, did not wish a new mandate. Due to the preparation for the 2016 AG in Toulon (headed by Chief Engineer Bernard CROS), she accepts to stay on as Delegate in the IFC by default of an official nomination up to October 2016. The new official Delegate Marc GAYDA Secretary of Association Vauban will be introduced at TOULON.
VOLUNTEER MILITARY SERVICE
The Association Vauban works with the Military authorities to help the definition of works to renewal some part of fortified sites by the volunteers of Military service. The sites identified are Blaye and Saint Martin de Ré (La Rochelle Military Base), Verdun, Neuf Brisach and Bitche (Metz Military Base) and Trou d'Enfert Fort (Paris Military Base)
CONSERVATOIRE DU LITTORAL (COASTAL CONSERVATORY)
The Association Vauban help the Conservatory to explain for the local communities and the visitors the strategic importance of coastal fortified places property of the institution (definition and realization for the signalization, informations or posters on the sites). A convention of assistance for the historical presentation of the sites strengthen should be finalized at the last quarter 2016 with the Coastal Conservatory ("Conservatoire du Littoral"). It will relate in particular on the following sites: Turn of Graillon with Antibes-Juan les Pins, Gros bau battery near Toulon, Warde Fort in St Malo and Hoedic Fort in Brittany near Belle-Ile island.
VAUBAN NETWORK SOCIETY:
The Association Vauban keeps collaborating with the Vauban Network Society ("Réseau Vauban" regarding the new Vauban sites submitted to the UNESCO to complete the Vauban Network of 2007 (Lille Citadel, Le Quesnoy, Breisach in Germany , Le Palais on Belle –Île Island).
In addition, the Vauban Society endeavours to convince the Vauban Network Society and ICOMOS to associate the fortresses of Almeida and Valença de Minho in Portugal to be part of the new list of sites Vauban or inspired by Vauban.
The Vauban Society also will endeavour to convince its Spanish and Portuguese partners to organize itself in national association to join the IFC.
ASSOCIATION VAUBAN
President Alain MONFERRAND
SWITZERLAND

Association Saint-Maurice d'Etudes Militaires (ASMEM)
Membership 317 Members
Publications
ASMEM-Bulletin 2015
https://www.asmem.ch/bibliotheque/servir-bulletins.html
New edition of:
Julius Rebold – "Histoire de la construction des ouvrages fortifiés fédéraux -
Baugeschichte der Eidgenössische Befestungswerke - 1831-1860 & 1885-
1921"
Events
- Study Tour Austria & Slovenia - 15 to 19 September 2016
- Forecast 2017 France – Soissons

- Excursions
- Sargans & St. Gothard – 11 to 12 June 2016
- Grand-Saint-Bernard & Fort de Bard - with Salons Dufour / Geneva – 23 to 24 July 2016
- Forecast 2017 France - Besançon
Website www.asmem.ch
M. Lovisa / 29.9.2016
GERMANY

Annual report
Deutsche Gesellschaft für Festungsforschung
Oktober 1, 2015 – September 30, 2016
Annual report
Deutsche Gesellschaft für Festungsforschung
Annual conference 2016 in Saarlouis
The annual meeting 2016 took place from 23th to 25th September in Saarlouis. In this town the idea to founding the DGF was born in 1980! The congress has put the focus the second time on the theme "Historical Sources for the study of fortifications in the early modern era". About 65 participants joined this conference. The next annual meetings will take place in Ingolstadt from 01th to 03th September 2017. The theme will be: "Fortification on the eve of World War I".
Publication of the eighth volume of the series "Fortification research"
In the context of our scientific publication series "Fortification research", the new volume has been launched and distributed to the members of the DGF. The title is "Ars militaris nach der Revolution. Der europäische Festungsbau in der 1. Hälfte des 19. Jahrhunderts und seine Grundlagen" ("Fortresses in the post-revolution era. Fortresses in the 1th half of 19th century and the basics"). The volume includes the lectures of conference in Cologne in 2014. The publisher of the books is still "Schnell & Steiner". This publication series is very successful and several volumes are already out of stock.
Publication of the series "Fortifications in Germany"
The guide to Rheinland-Pfalz/Saarland is in the making and will appear in 2017. The authors are Ingo Eberle,
Angela Kaiser-Lahme, Anja Reichert-Schick and Klaus T. Weber
Festungsjournal
In 2016 the DGF published two issues of the DGF- "Festungsjournal" (issues 48 and 49). Elmar Brohl is now preparing his last issue 50. After the era of Elmar Brohl a board of editors will publish the Festungsjournal. Benedikt Loew will be the new chief editor.
ArcheoPoint Düsseldorf
In collaboration with DGF, the city of Düsseldorf opened during the world heritage day in September 2016 the ArcheoPoint, a showroom presenting 16th and 18th century fortification elements found during the construction -between 2008 and 2016- of the new underground line "Wehrhahn-Linie.
The ArcheoPoint is located in the new underground station "Heinrich-Heine-Allee" in the very centre of Düsseldorf under the famous "Königsallee" and it is open every day with free entry.
Number of members
The number of members is still slightly shrinking:
Sept. 2008: 237 members
Sept. 2009: 234 members
Sept. 2010: 235 members
Sept. 2011: 231 members
Sept. 2012: 234 members
Sept. 2013: 237 members
Sept. 2014: 230 members
Sept. 2015: 223 members
Sept. 2016: 220 members
In 2016 we got 5 new members.
7. Fortifica
in 2016 the DGF started a collaboration with the Internet-Blog Fortifica http://fortifica.hypotheses.org/. Fortifica is managed by our member Tommy Jark.
Leipzig, 5 October 2016
Dr. Eberhardt Kettlitz
Executive secretary

BELGIUM SIMON STEVIN V.V.C.

Activity Report 2015
1.1 Official meetings
General Assembly: 29-05-2015
Direction committee : 10 meetings: 13/01, 10/02, 10/03, 14/04, 12/05, 09/06, 08/09, 13/10,
17/11, 15/12
An impressive correspondent- and members reunion will be organised in 2017
Member Assembly meeting International Fortress Council (IFC)16 October 2015.
Simon Stevin V.V.C. is host and organises the event including a exclusive study visit to the
Fort of Haasdonk, Fort 5 and the German WW 2 bunker park Den Brandt.
Participation to the vtbKultuur General Assemblies 21/03/2015, 12/09/2015 en 5/12/2015.
Participation to Herita General Assemblies 26/03/2015 en 17/12/2015.
1.2 Activities
Meetings, congresses and preparations:
Various meetings in Raversyde: preparations Simon Stevin Fortress Day 2015
07/05/2015: work meeting with ADAK related to a bunker parc near the bridge over the canal
Dessel-Schoten in Turnhout.
21/11/2015: 50 years of ICOMOS Brussels : participation to the meeting.
Terrain reconnaissance
24-01-15: KW-Bunker Mechelen (Coveniersgilde): visit and reconnaissance
24-01-15: Site Polder Hoboken. Reconnaissance brick / concrete structures next to old
railway track.
18 and 19-07-15, Reconnaissance Fort Leveaux, Ayvelles, citadel Montmedy & Ouvrage La
Ferté.
26-07-15: Reconnaissance Bunker line Steendorp - Temse part 1
30-07-15: Reconnaissance bunker line Steendorp - Temse part 2
10-09-15, Reconnaissance Fort Haasdonk
19-08-15: Reconnaissance To main resistance line of the Spanish Civil War in Palamos.
12-08-15: Reconnaissance 5 days Atlantikwall Somme/Normandy.
22-08-2015 : Reconnaissance Fort Haasdonk.
05-09-15: Reconnaissance Maginot fort Schoenenbourg and Cas Esch
11-10-15: Reconnaissance Fort Vechten (NL)
21-10-15, 3-days voyage with Prof. Luc De Vos and Franky Bostyn areas Arras and the
Somme
18-12-2015: Recognising route Hans-Rudolf Neumann: Fort Saint Marie, Fort Liefkenshoek,
Fort Lillo, Redoute Smoutakker and Antwerp Safety belt.
2. Public activities
2.1 Presentations and congresses
17-05-15: Fortress Belt Antwerp participation with info stands in Fort 2 Wommelgem and Fort
5 Edegem. Overall organisation of a public searching game.
21-08-15: Interview with George Melis about the conservation and protection of the
fortifications at the Costa Brava Spain. Publication in the magazine "Gavarres
17-09-15: Presentation by Frank Philippart about the Atlantikwall in Oostende.
29-09-15: Presentation of the book about the Citadel of Zoutleew 1937-1940 by
correspondent Roger Moria.
03-10-15: Simon Stevin info stand with publications and information at the Open Door Day
Fort Steendorp.
10-10-15: Participation of Simon Stevin V.V.C. at the audit session of Tourism Province
Antwerp.
Simon Stevin V.V.C. Annual Report 2015 pag. 2
2.2 Guided visits
20-06-15: Exclusive presentation and visit at Fort Duffel.
16-10-15: Simon Stevin facilitates IFC visit to Fort Haasdonk, Fort 5 Edegem and WW2
German bunker park Den Brandt.

2.3. Events
Simon Stevin V.V.C. focus on 4 projects :
Fortress belt Antwerp in cooperation with Province of Antwerp.
Fortress Day 2015 in Raveryse – Ostend
Organisation and hosting IFC Antwerp Assembly 2015
Project "Discover Antwerp Fortified – Tourism Flanders.
2.4. Province Antwerp Fortress Belt 17 May 2015:
Simon Stevin V.V.C. Simon Stevin V.V.C. info stand in Fort 2 Wommelgem and Fort 5
Edegem. Overall organisation of a public searching game.
2.5. Fortendag 2015 op 27 September 2015
Fortendag 2015 took place in Raversyde Ostend.
Participants were very positive about the reception and organisation of the Fortress Day.
2.6. Fortification Day in Fort 8 – 8/11/2015
Promotion via the Simon Stevin V.V.C. promotion channels + participation with extended info
stand.
2.7. Preparation pilot project H.R.Neumann 9-16/04/2015
Dr.-Ing. Hans-Rudolf Neumann organises theme-related excursions on fortified heritage
worldwide. The Flemish fortifications (from Coast to Antwerp) will be visited. The program is
prepared and supported by Simon Stevin in close cooperation with Dr.-Ing.Hans-Rudolf
Neumann.
2.8. Digital unlocking of the Simon Stevin archive.
A complete approach and planning is put in place by Lydia Keurvels, archive coordinator of
Simon Stevin V.V.C.
2.9. Simon Stevin Magazine Vesting
Is completely renewed and published in full colour. The magazine is a powerful medium to
bound members and recruit new members and supporters.
2.10. Cooperation with Her
Herita is the Flemish umbrella heritage organisation. Our cooperation includes the
participation in the General Assembly and providing tangible member advantages related to
the public unlocking of fortified structures.
3. Conservation and Protection
3.1. Bredene R505:
Simon Stevin V.V.C.formulated concrete measures based on a former conservation file that
was presented earlier
3.2. Strobrugge (Leopoldskanaal/EDE):
The owner of a terrain, including a large representative troup bunker of the Holland Stellung
has the intention to build a home on it.
The bunker is protected. Based on Simon Stevin V.V.C. recommendations, the owner
includes the bunker in his construction plans and will stay accessible on demand.
3.3. Bunkers of the canal Bochelt-Herentals:
Simon Stevin V.V.C. Annual Report 2015 pag. 3
On the Canal Bochelt-Herentals, 3 Interbellum Bunkers ( 1F 2BF and 2DF) are involved in the
reconstruction of the canal. This bunkers had an historical role in the fights 19144.
Therefore the bunkers should be remained. The city wants to take the necessary measures.
A conservation file for the bunkers was formulated by Simon Stevin V.V.C.
3.4. Liesewege, tobrouks Atlantik Wall :
De SiSt werd door TUCRAIL aangesproken een begroting te maken en deze bunkers volledig
te inventariseren.
3.5. Kanaalbunkers Dessel-Schoten
Simon Stevin participated at the ADAK (Archeology Service of Antwerp Kempen) to discuss
the information infrastructure of the bunker site at the bicycle bridge over the canal Dessel-
Schoten.
This includes the protection of the bunkers, the culture-touristic unlocking of the site and a
official moment related to 100 years Bunkerlinie (2017).
3.6. KW-bunker: De 'Mechelse Colveniersgilde':
This bunker in authentic shape was intensively inventorised by Simon Stevin V.V.C. A
proposition for further unlocking the bunker with visitor information was presented to the
owner.
4. Publications
4.1 Vesting – the Simon Stevin members magazine
2015/01: 20 pages
2015/02: 20 pages
2015//03: 20 pages
2015/04: 20 pages
4.2 Vesting Flash (free online newsletter )
VestingFlash 2015 : 3 editions (03/05, 23/08, 21/10)
4.3 WMF-Newsletter (online newsletter for members - Workgroup Modern
Fortifications)
WMF-news n°2015-01 (13 pages
WMF-news n°2015-02 (7 pages
4.4 Other publications.
The Defence of Costa Brava Central during the Spanish Civil War. – George Melis.
Touristic guide Temse – documented Bunker walk from fort Steendorp to Fort Haasdonk
including plan, information and GPS download.
5. Acquisitions Documentation Center
8 articles, 17 books, 1 DVD, 4 flyers, 24 magazines.
The personal archive of former president Robert Gils was added to the Simon Stevin V.V.C.
archive.
Thanks for this report to Manu Leysen, member of the Simon Stevin V.V.C. direction
comitee.
Luc Olyslager
Chairman Simon Stevin V.V.C.

AUSTRIA
Österreichische Gesellschaft für Festungsforschung
The year 2015/16 saw various, mainly individual (research) activities of our members.
Fieldtrips to fortifications in Krakau, Przemysl, Südtirol, Bosnia, Croatia, Montenegro and Hungary were done individually or in small groups.
On our field trip to Montenegro, we had the last chance to visit Seefort Mamula at the entrance of the bay of Kotor, before the closure of the access to it. This outstanding little fortress will the transformed to an exclusive holiday resort for the super-rich, despite the strong opposition of the local population and the OeGF. More about this topic you can find on our website.
At the same time our website continues to be our main instrument to publish research results and present activities. Equally it is a perfect tool to get in touch with other researchers around the globe. We received numerous enquiries via our website and in most cases we were able to give answers to sometimes very detailed questions.
Members of the OeGF were also speaking about the Austro-Hungarian fortifications at symposia in Austria, Italy and Croatia. One particularly interesting symposium was at the University of Salzburg about "Garnisonsstädte in der Habsburgermonarchie" (garrison towns in the Habsburg Empire) where two OeGF members contributed with their lectures. More details you can find as well on our website.
This year also saw and will see the publication of 3 books, partly written by OeGF members. Published this summer was the book "La Regione Fortezza" ("The fortified region") about the fortification system in Tirol until WWI by Nicola Fontana. End of this month will also see the publication "Fortificatione e Operazione" (" Fortification and Operation") by Willibald Rosner. This book deals with the planning, construction and the role played during WW1 of the last generation of Austro-Hungarian fortifications in Tirol (Folgaria-Lavarone region). The last book, also dealing with the fortifications in Tirol, is the result of a symposium in fortress of Franzensfeste held in 2013 and 2014. The OeGF contributed 4 lectures which will be published with lectures given by other researchers in this forthcoming book.

LUXEMBOURG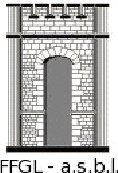 Frënn vun der Festungsgeschicht Lëtzebuerg